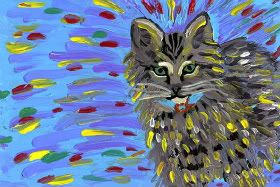 Etsy for Animals is a great street team on Etsy that works very closely with Etsy for Charity. mvegan5, another one of our recently featured shops, is the leader of Etsy for Animals and was willing to share more about it with us.
1)What is your shop name, and why did you choose it?
Cards and Jewelry by Michele, I've been trying to think of something more fun/catchy, but still not sure! Etsy for Animals is pretty straightforward:
http://etsyforanimals.etsy.com
2) Where are you located?
I'm from the Bay Area, California, and currently live in Be'er Sheva, Israel
3) What charities do you support?
I support many charities, focusing on ones that help the environment and animals. Some of my favorites that I have supported for years are; The East Bay SPCA
http://eastbayspca.org
and Farm Sanctuary
http://farmsanctuary.org
4) Do you participate in any other groups, and if so, which ones?
I am involved in many groups, including Vegan Etsy
http://veganetsy.blogspot.com
, Cruelty Free Etsy
http://crueltyfreeetsy.blogspot.com
, Eco Etsy
http://ecoetsy.com
and AWBAR (see below).
I founded and co-lead Etsy for Animals (efa)
http://etsyforanimals.etsy.com
and give 10% of my shop sales to the efa charity of the month. I also contribute items to sell in the efa shop, as well as in the efc and AWBAR (Abandoned Wildlife Babies Animal Rescue) shop
http://awbar.etsy.com
.
5) What's the one material your shop can't live without?
Vintage/recycled materials.
6) What is your favorite item that you have purchased off of Etsy?
My two rescued kitties, Moses and Tala! (don't worry, I don't really think they are items, but they are so special to me, more than any item I own)
http://www.flickr.com/photos/mvegan5/sets/72157594256559144/
7) When you aren't being a "Super(wo)man of crafting," what is your "Clark Kent" dayjob?
N/A
8) If I could sell one item from my shop today, it would be...
I would love to sell a Custom Animal Painting and Cards, I love doing these, and am looking for my next commission;
http://www.etsy.com/shop.php?user_id=25517&section_id=5041429
.
9) If I had enough money to pick one item on my wishlist from another Etsy for Charity members' shop to buy, it would be...
Oh my goodness... hmmm I love these
http://www.etsy.com/view_listing.php?listing_id=10746772
http://www.etsy.com/view_listing.php?listing_id=9367739
and have had my eye on this one;
http://www.etsy.com/view_listing.php?listing_id=1052768
10) If you had 30 seconds to give an impromptu infomercial on your store - what would it be?
I create and sell art and jewelry inspired by my love and commitment to animals and nature, using vintage/recycled materials whenever possible. I give 10% to the Etsy for Animals charity of the month, so your purchase will help animals in need.
11) What are your top four favorite items you have currently listed in your store?
Custom Animal Portrait and Cards
http://www.etsy.com/view_listing.php?listing_id=5270255
Sunshine Chicky Ring
http://www.etsy.com/view_listing.php?listing_id=12385160
Vintage Winged Owlie Hoop Pin
http://www.etsy.com/view_listing.php?listing_id=12246370