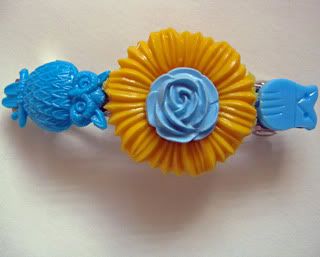 Read on to find out more about mvegan5 (
mvegan5.etsy.com
):
1) What is your shop name, and why did you choose it?
For now, my shop is called Cards and Jewelry by Michele, because I can't think of the perfect name yet!
2) Where are you located?
I am from Oakland, California and go back there in the summers, but currently live in Be'er Sheva, Israel with my Israeli boyfriend, and our two rescued kitties, Moses and Tala.
3) What charities do you support with your shop?
I support many animal and environmental charities, but some of my favorites are; The East Bay SPCA, Farm Sanctuary, and NRDC.
4) Do you participate in any other groups, and if so, which ones?
I started and run Etsy for Animals
http://etsyforanimals.com
, and belong to CCCOE, JET, EcoEtsy, EtsyVeg, VeganEtsy, EtsyGreetings, and SFETSY. I also belong to IsraelisonEtsy.
5) What's one material your shop can't live without?
Vintage findings.
6) What is your favorite item that you have purchased off of Etsy?
Lovie Dovey Postcard by Etsy for Animals member, bluedogrose:
http://www.etsy.com/view_listing.php?listing_id=9452848
7) When you aren't being a "Super(wo)man of crafting," what is your "Clark Kent" day job?
I teach art and English to kids and adults.
8) If I could sell one item from my shop today, it would be...
I would love to sell a custom animal painting and cards, I love to do those, and it gives me a painting assignment!
9) If I had enough money to pick one item on my wishlist from another Etsy for Charity members' store to buy, it would be...
I LOVE this adorable painting by sharonfosterart , who is also with me in Etsy for Animals, and offers items helping animals.
10) If you had 30 seconds to give an impromptu infomercial on your store, what would you say?
Animal and nature inspired art, cards, jewelry, and more, with 10% going to animal charities.
11) What are the top four favorite items currently listed in your store?
Vintage Filligree Kitty Ring
http://www.etsy.com/view_listing.php?listing_id=9513382
Custom Animal Portrait and Cards
http://www.etsy.com/view_listing.php?listing_id=5270255
Vintage Horse Magnet- 50% to Redwings Horse Sanctuary
http://www.etsy.com/view_listing.php?listing_id=9353457
Funky Vintage Owl Earrings
http://www.etsy.com/view_listing.php?listing_id=7742635
What ThePeachTree thinks of mvegan5's store:
It's funny that I have a chance to promote mvegan5 as she is the very reason I even know that etsy exists! We were on the same flight coming from San Francisco to NYC. She had one of her kitties with her that would be in the cabin and we struck up a conversation on our mutual love for animals. The rest is history!
Here's what I like about mvegan5's store: Her intense drive to help and protect animals in every way possible. My favorite item from mvegan5's store is: These rock my world :)
http://www.etsy.com/view_listing.php?listing_id=5607693
**If you would like to have your shop featured in our Etsy for Charity blog, please convo Creations4Causes on the Etsy site, or leave Creations4Causes a message on her Etsy for Charity profile page.**